Overview
Fosse Green Energy is a proposal for a new solar and energy storage park and infrastructure to connect into the national grid on land south west of Lincoln in North Kesteven.
The project is anticipated to have a generating capacity of c.350 megawatts (MW) peak direct current (dc), with an export capacity of 240MW peak alternating current (ac). This is enough clean energy to power in the region of 110,000 homes.
The clean, renewable energy produced by Fosse Green Energy will make a valuable contribution to the UK Government's targets to reach net zero by 2050. The Government's Net Zero Growth Plan published in March 2023 reiterated these aims, including the commitment to increase the UK's solar capacity fivefold by 2035.
Because the capacity of the solar farm exceeds 50 MW, Fosse Green Energy is classified as a Nationally Significant Infrastructure Project (NSIP) and requires a Development Consent Order (DCO) under the Planning Act 2008. You can find out more about the project's development process here.
Location
Fosse Green Energy is proposed to be located on land 5.6 miles (9 km) south west of Lincoln in North Kesteven, Lincolnshire. It will be made up of solar photovoltaic (PV) panels, power conversion stations, an onsite substation and battery energy storage areas located on the north and south of the A46, known as Fosse Way.
To the east of the Solar PV array area we are looking at potential corridors for transporting electricity through underground cables to a connection point into the national grid. We are currently considering two options for the grid connection corridor. The decision on the corridor will be informed by continuing survey work and the location of National Grid's new substation.
The preliminary study area that we are looking at for the project is outlined below.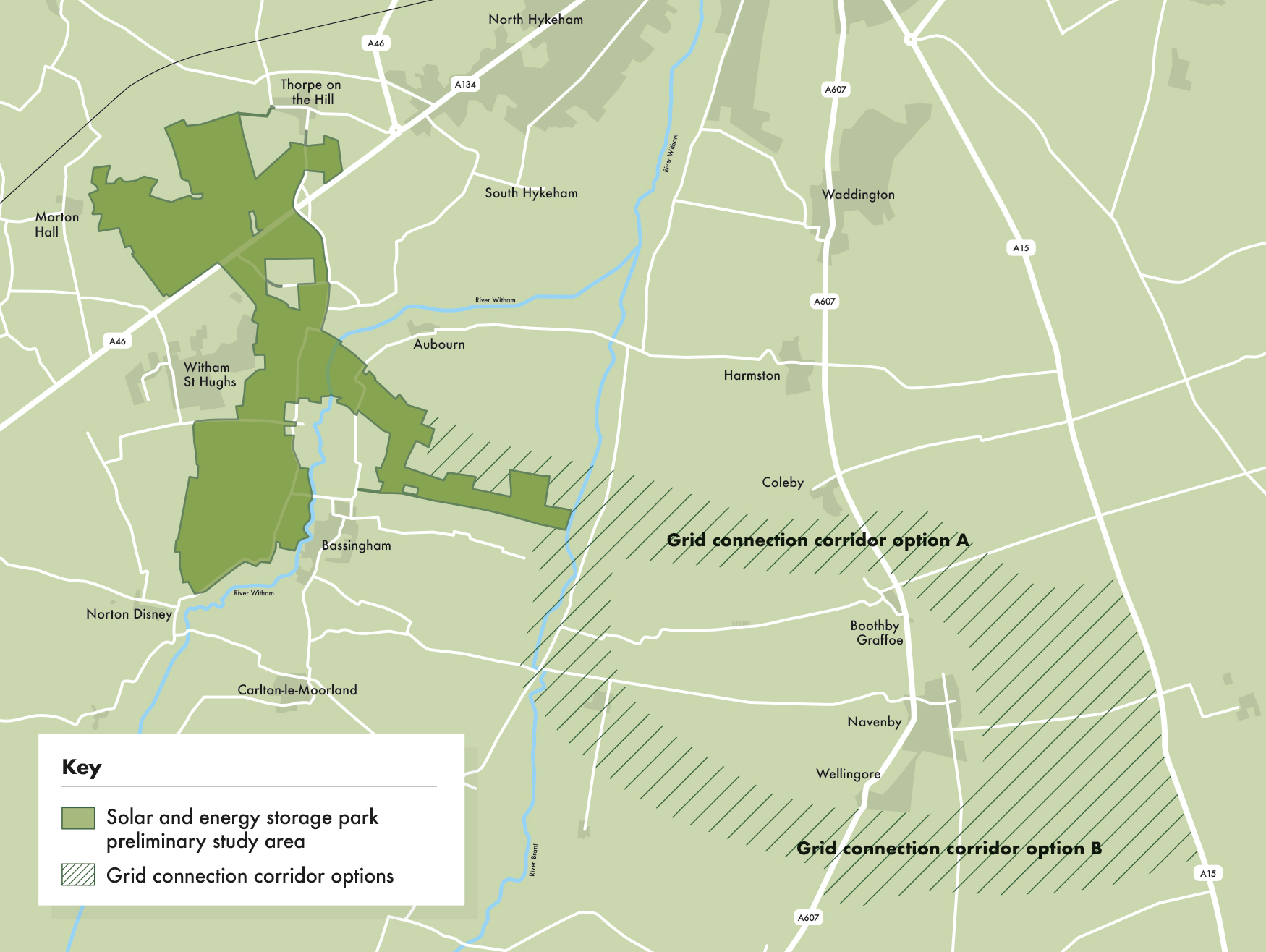 Map of proposed location for Fosse Green Energy. Click image to enlarge
Pinch to zoom
There will also be areas for ecological enhancements, mitigation measures and screening, as well as access points and infrastructure for energy storage.
There are many factors that have been considered in selecting the proposed location for Fosse Green Energy. They include the topography of the landscape; availability and location of a connection to the electricity system; planning and environmental factors including visual impact, biodiversity, agricultural land quality and land use, and flood risk. The availability and ownership of land, and access rights to the land through construction and operation also have been considered.
Consultation
Thank you to everyone who took part in the first stage of public consultation for Fosse Green Energy, which ran from 11 September to 20 October 2023.
The feedback received at this consultation is being reviewed, together with the findings from our ongoing environmental and technical studies, to inform and shape the project's design.
The materials and information we presented at this consultation can be found by visiting our Documents page.
This was not the last chance to provide your feedback. We plan to hold a further stage of public consultation in early 2024 before submitting a Development Consent Order (DCO) application to the Planning Inspectorate.